Raleigh Local Tree Service


Tree Service And Tree Removal In Raleigh
Are you looking for expert tree service in Raleigh, NC? Blackhawk Tree Services has years of experience with a wide variety of tree-related services, including emergency tree removal, stump grinding, tree pruning, and much more. We want to have a minimal impact on your property, so contact the experts in Raleigh tree service today to get a free estimate!
Raleigh Tree Pruning Service
Got some dead limbs, branching hanging over your home, or trees that need to be shaped and trimmed up? If so, you need an experienced tree pruning crew to take care of your property. Blackhawk brings years of experience and professional training to those who need tree pruning in Raleigh and the neighboring areas. If you don't prune your trees regularly, it can lead to a number of issues. Storms can bring branches down on your roof, on your vehicles, or on your power lines. Dead limbs can fall at any time. Branches with infections can eventually kill the entire tree. Don't wait for any of that to happen. We will assess your trees and provide pruning for health, aesthetics, and safety, all with as little disruption to your yard and your life as possible. We also serve  Fuquay-Varina, Morrisville, Cary, Apex, and Holly Springs areas.
Raleigh Tree Removal Service
Need to have a tree removed? There could be many reasons why you may need our tree removal services in Raleigh, North Carolina. Sometimes, trees grow so large that they no longer fit in the space they have or they begin to cause issues. Roots can grow under the driveway, sidewalk, or even the foundation of your home and slowly cause damage. Branches can become entangled in tree lines so often that continual pruning is needed. You may also find that a tree interferes with your backyard projects. In some cases, trees simply die and need removed. No matter what the reason, Blackhawk Tree Services can take care of all your tree removal needs. We will be in and out as quickly as possible, and our team of certified experts will ensure no damage is done to any other part of your property.
Stump Grinding & Removal Service in Raleigh
You may have the perfect plan for your backyard, but there's just one issue: there's a big stump right in the middle of it all. If you have a stump that is causing issues in your yard, Blackhawk Tree Services can remove it. Our team has years of experience in stump grinding in Raleigh and the surrounding areas, including the NC Triangle. We will make use of our range of equipment to quickly and carefully remove the stump or grind it down to the point that it can no longer interfere in your plans. It doesn't matter if the stump has large, deep roots or is in an awkward corner, we can take care of it.
Tree Health & Risk Assessments in Raleigh
Dying trees present a major risk to your property. Their limbs can fall onto your roof, or the entire tree could come down. If a tree has certain diseases or insect infestations, though, you may not necessarily be able to tell that it's dying. If you have concerns about a tree, you need a professional to evaluate it. Our team of ISA-certified experts provide tree health and risk assessments in Raleigh, NC, and the surrounding areas. Whether it's due to damage from insects, from a blight, or even from a storm or other issue, we will evaluate the tree's overall health and make recommendations with an eye both towards preserving the tree and eliminating any risk it may pose to your property.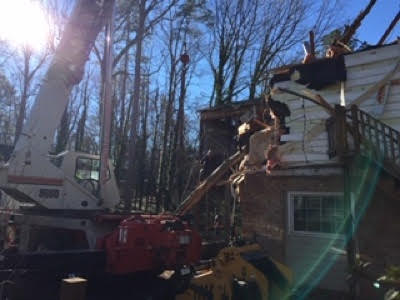 Emergency Tree Removal in Raleigh, NC
Hurricanes, tornadoes, hail storms, and high winds can all damage trees. Often, these types of weather results in branches coming down, but sometimes, they take out entire trees. When that happens, you need an experienced team to deal with the downed tree as soon as possible. Blackhawk Tree Services provides emergency tree removal in Raleigh and other nearby areas. Our hotline is open 24 hours a day, 7 days a week every day of the year, so no matter when you need us, we're available. Often, these downed trees damage power lines, land on your roof, or block your driveway completely, so you need them handled as soon as possible. Don't wait to call when this happens.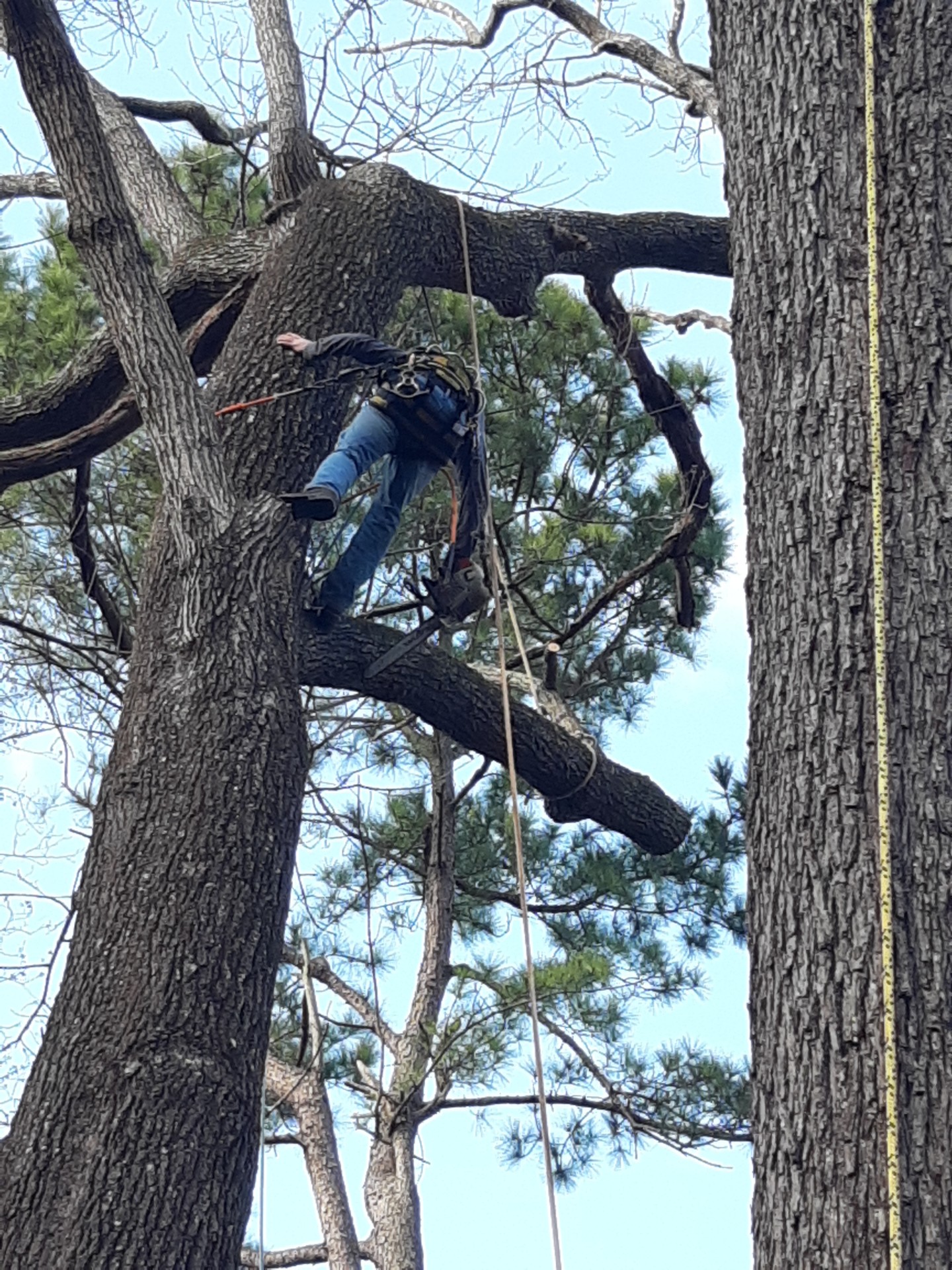 Commercial Tree Trimming & Removal Service
Just as residential homes need tree care, so too do commercial businesses. You don't want branching falling on your business's roof or coming down in your parking lot, especially when customers are parked there. Blackhawk Tree Services offers an extensive list of commercial tree services in Raleigh and the nearby areas for businesses of all sizes. We provide tree pruning, dead limb removal, stump grinding, full tree removal, and much more. Our team is fully insured, trained, and licensed to provide all of these services. Whether you have a one-time need or want to arrange a standing partnership, we promise to deliver outstanding value and great customer service to all of our clients.
Raleigh Local Tree Service


Protecting Your Property
Blackhawk Tree Services in Raleigh provides tree removal, tree trimming, stump grinding, storm damaged tree removal, and emergency tree removal services. We can help keep your property protected from falling branches or damaged trees, or if you are looking to beautify your property by trimming trees to take off dead branches or branches hanging near your home. Call the Raleigh tree service experts today for your free estimate.