Tree Service & Tree Removal In Raleigh & Cary NC
Welcome to


Blackhawk Tree Services

For over 40 years, Blackhawk Tree Services, Inc. has provided tree care and removal services for homeowners and businesses throughout Raleigh and the Research Triangle area, including Apex, Morrisville, Cary, Fuquay-Varina, and Holly Springs. We are a full-service tree specialist that is fully licensed and insured to handle anything from pruning to health and risk assessments, tree removal, emergency services, stump grinding, and beyond. Blackhawk focuses on getting the job done right without wasting your time. Our well-educated experts will find the best way possible to do what's needed for your trees. Locally owned and operated, we are proud to deliver the best customer service while leaving your property in better condition than when we arrived. No matter what your tree care needs, we'll provide the most value and safety available in the Triangle.
We have a diverse skilled staff with a wide range of equipment, perfect for any need. This unique combination makes us your best resource for any tree care job in the Triangle area. No matter the severity, size, or scale of your needs, we'll be by your side to get you through it. We want to be your reliable tree experts. Let us go the extra mile to show you how committed we are to getting the job done right the first time.
Don't hesitate to contact us in the form to the right for a consultation! Our experts are ready and waiting to help you.
We're Here to Serve You
As a local family business, we take pride in handling all of our customers' tree needs with the most cost-effective and low-impact services available. We're local tree experts who really care about your trees and your property! Because our customers' tree care needs come in so many forms, we create a custom plan for each job. No project is too big or too small for us to take on. From something as serious as a no-notice emergency tree removal to something as casual as keeping your tree pruned, the friendly team at Blackhawk offers all the tree care services you need. We're standing by to keep your trees safe, healthy, and looking great.
When you need tree services, you deserve work from someone who knows what they're doing. The International Society of Arboriculture (ISA) offers trusted credentials to highly educated tree experts throughout the world. Here at Blackhawk, our team includes ISA-certified specialists who have been studying trees for decades. That means we have the knowledge and expertise needed to assess the health and safety of any type of tree in our area. Services without ISA-certified specialists often lack the insight to take care of the more unique, rare problems they face. More often than not, they rely on guesswork. Our staff is specially trained to know exactly what they're looking at and how to address any need from the start. No more long waits or mistakes that cause more harm than good.
We love trees, and we genuinely want what's best for yours. Our team uses fine-tuned, thoughtful methods for tree care that will keep your tree healthy, free from damage, and looking great. We put thought into everything we do. That's the difference between working with any run-of-the-mill tree service and the certified arborists on our team. Our experts take the time to plan out every step of their tree service ahead of time for a seamless job. Other services often take a blunt or uneducated approach to a delicate problem. That can leave your tree worse off than it was when they arrived. Don't trust your tree care to just anyone. Choose Blackhawk for proven knowledge you can trust.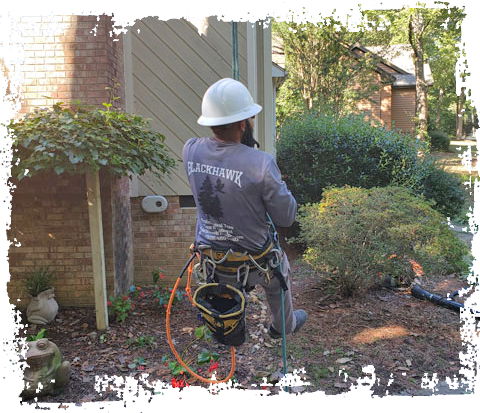 I cannot recommend this team enough. We've used them for 2 tree removal jobs and their professionalism, knowledge, and overall customer service is worth a 10/5. They are priced fairly, do GREAT work, and make the entire process as stress free as possible. We'll recommend them to every person needing these types of services done. thank you!
Lindsey Farwick


August 7, 2020
We had 4 trees and 4 tall shrubs (35' tall) removed. 2 trees were very close to the screened deck and the tallest shrub grew in a tight space right next to the house, air conditioners and yard structures. They did a fantastic job of doing all this and left the place looking very clean. The men doing the work were friendly and courteous. They had to deal with an interruption from the HOA (PITA group if you ask me) and a crazy neighbor and kept their cool through it all. Nice guys and hard workers. Price was very reasonable and they were very flexible. Glad I chose them and they'll be my first choice for future work.
Dave Coffman


October 22, 2020
Blackhawk came to the jungle at our new place and left it looking respectable again - large trees out and stumps ground and cleanup impeccable. Shout out to Will and his team, they were like watching a Navy Seal team at work: efficient, conscientious, punctual and super hard working. Nothing but respect and thanks for all their efforts - great bang for the buck & have always had a great experience with this company.
Matthew Noel


November 17, 2020