Fuquay-Varina Local Tree Service


Tree Service And Tree Removal In Fuquay-Varina
Blackhawk Tree Services boasts decades of tree removal, tree pruning, and other related tree services experience. We employ on the the best of highly trained, educated, and professional tree experts to help you with your Fuquay Varina tree services. Whether you need emergency tree removal after a storm, or tree pruning to spruce up your property, call the Fuquay Varina tree experts today to get your free estimate!
Fuquay-Varina Tree Pruning Service
Do you have tree branches that are hanging over your home, your utility lines, or your driveway? If so, a strong storm could lead to property damage. If you need your trees pruned in Fuquay-Varina or the surrounding areas, we're here to help. We will remove any tree limbs that are in danger of falling on your home, vehicles, or utility lines, trim up your trees so that they look great, and remove any dead limbs we find. Don't wait for a storm to come through and take out your limbs. Whether you need our experts to tidy up your trees once or want us to come in regularly, we're here for you. Give us a call today to schedule tree pruning in Fuquay-Varina. We also serve Raleigh,  Morrisville, Cary, Apex, and Holly Springs areas.
Fuquay Varina Tree Removal Service
Removing a tree is not a simple or easy process, especially if it's an older, large tree with thick branches. However, the team here at Blackhawk Tree Services has years of experience in removing trees, no matter how large or old they may be. We can handle your tree removal in Fuquay-Varina quickly and with as little disruption to the rest of your yard as possible. We make use of cost-effective, safe means, including sectioning and manual felling. Whether it's a healthy tree that has its roots in your foundation or a dead tree that's threatening to fall, we will handle the removal with care.
Stump Grinding & Removal Service in Fuquay Varina, NC
Stumps left behind from trees that have been cut down can be a nuisance in your yard. It's not always easy to remove these stumps due to their long roots or placement, but that's where Blackhawk Tree Services comes in. Our team is experienced at stump grinding and removal in Fuquay-Varina and the surrounding neighborhoods. Whether you want the entire stump gone or would prefer it to be ground down so it's almost unnoticeable, our team has the years of training and experience needed to make it happen. We'll take care of these stumps quickly and affordably using our top-of-the-line equipment.
Fuquay Varina Tree Health & Risk Assessments
If you have noticed that one of your trees seems to be in poor health, don't wait until it starts dying to have it assessed. Blackhawk Tree Services can identify various rot issues, blights, signs of infestations, and other issues related to tree health in Fuquay-Varina. We can also perform a risk assessment on your trees to identify potential hazards and ways to mitigate them. Our ISA-certified arborists have years of experience in identifying risks to both your trees and to your property. Whether you want to save a tree that is potentially sick or want to know which trees could fall on your home, we can help.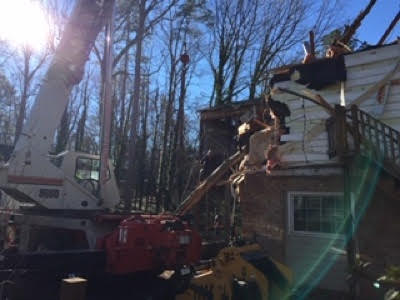 Emergency Tree Removal in Fuquay Varina, NC
Sometimes, you plan to have a tree removed. Other times, Mother Nature makes that decision for you. If you've had a tree come down due to a hurricane, tornado, or other weather-related disaster, you need it removed as soon as possible. We offer emergency tree removal in Fuquay-Varina 365 days a year, 24 hours a day. Trees that fall on your property can damage your home or your vehicles, plus they can make it impossible to get out of your driveway. You need them removed as soon as possible, and that's what we offer. We will quickly and efficiently remove any fallen tree, and we will work with your homeowner's insurance, too, so you have one less thing to worry about.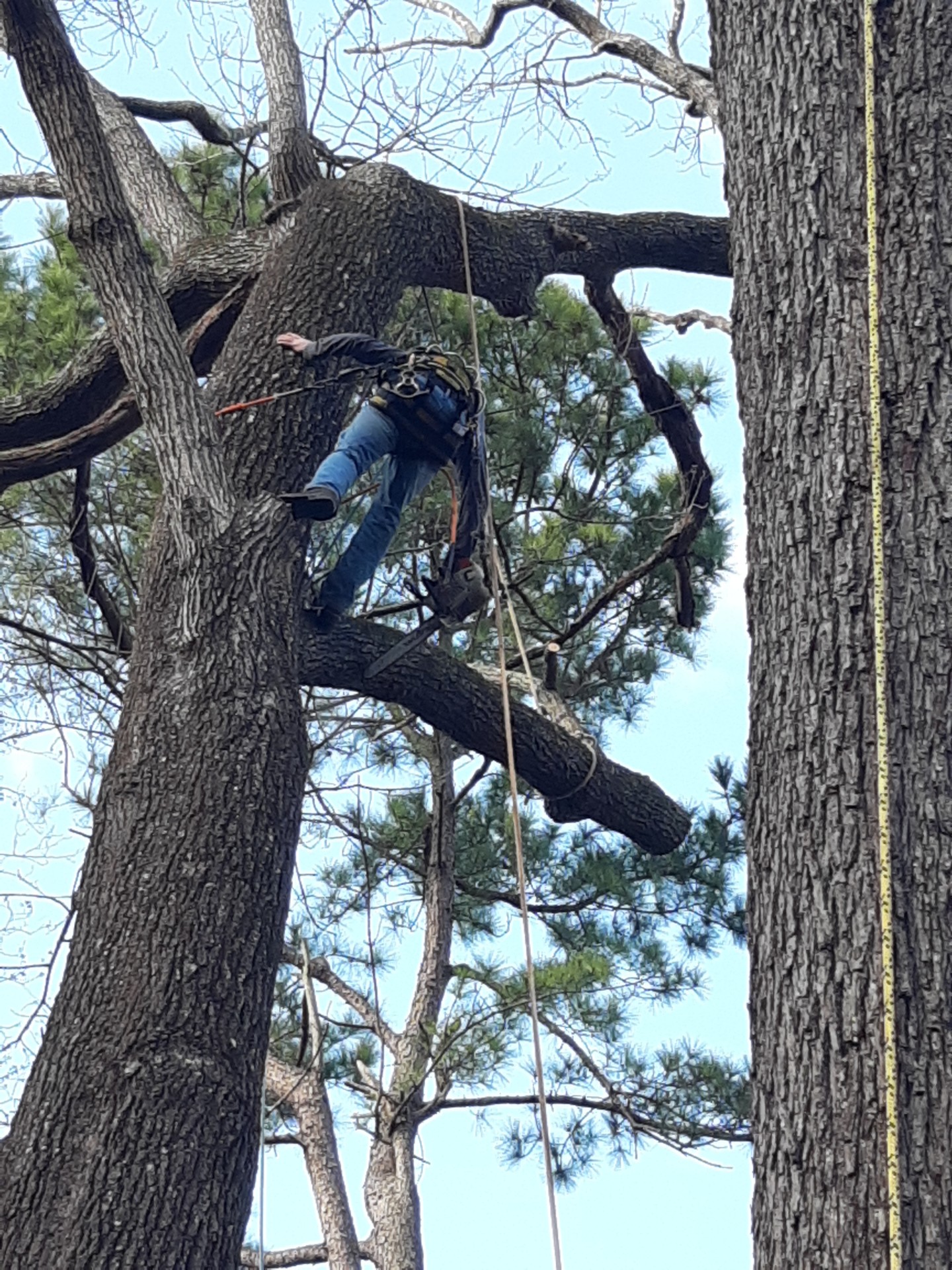 Commercial Tree Trimming & Removal Service
In addition to helping homeowners and other residents, Blackhawk Tree Services also offers commercial tree services in Fuquay-Varina and other cities in the NC Triangle. Our team has over 40 years of experience in tree pruning, tree removal, and other related services. Whether you need emergency services as soon as possible or want to schedule regular pruning, our team is ready to put their skills and equipment to work for you. We are a fully insured company with the required licenses, and many of our team members are ISA-certified. We can assist you in assessing the risks to your business and customers, devising safety plans to mitigate that risk, and much more.
Fuquay-Varina Local Tree Service


Protecting Your Property
Trees are an essential part of any property, providing nice shade for your family to enjoy the outdoors. Make sure that you are employing the best tree care and tree removal services around Fuquay Varina with Blackhawk Tree Services so that you can rest easy knowing that fully-insured arborists are taking extra care to keep your home and property safe from the dangers of damaged or diseased trees. Call or message us today to schedule a free estimate for Fuquay Varina tree services!